Get ready to step onto the court and into the world of an NBA basketball player at The NBA Exhibition opening on November 9 2023 in Brisbane. Touring in Australia for the first time ever at Queens Plaza, this is a not-to-be-missed experience for any sports enthusiast. Perfect for all ages, The NBA Exhibition will have you dunking hoops and memorising your favourite Basketball player's quotes. Filled with autographed memorabilia, immersive experiences and interactive games, you'll want to get your tickets soon for this incredible experience.
The NBA Exhibition will be showcasing a variety of interactive and immersive elements throughout the 20 different sections. Walk into the Entrance Area and experience what it's like being in the centre of a basketball court. Or spend some time "measuring up" against basketball stars to see where you are in terms of height, foot and hand size. 
You will also be able to delve in the history of the NBA in the Heritage Zone, and learn more about famous international basketball stars including iconic players such as Kobe Bryant, Lebron James and Michael Jordan.   
After becoming familiar with the players, you can then see over 50 rare and autographed basketball memorabilia pieces that form part of the legendary history of the sport. During the first week of opening you will even be able to get a closer look at the real Larry O'Brien championship trophy, which is awarded annually to the winner of the NBA Finals.
The exhibition also includes sections that are fully immersive, using technology and virtual reality to transport you into the world of basketball. One example is the Infinity Room, where some of the best basketball highlights in history will be broadcasted to sound effects and music.
You also won't be leaving this experience empty handed. Stop by one of the two AR photo booths where you can take a picture with an NBA player and have it emailed to you! You can also end your visit with a stop into the NBA exhibition store. This will have a variety of merchandise, apparel and accessories on sale, for you to remember your time at the event. 
Tickets start at $21 and include access to all the sections. There are also Group Tickets as well as Family Bundle options available, making this exhibition even more accessible. Don't miss out on this incredible opportunity to immerse yourself in the world of basketball and get your tickets soon!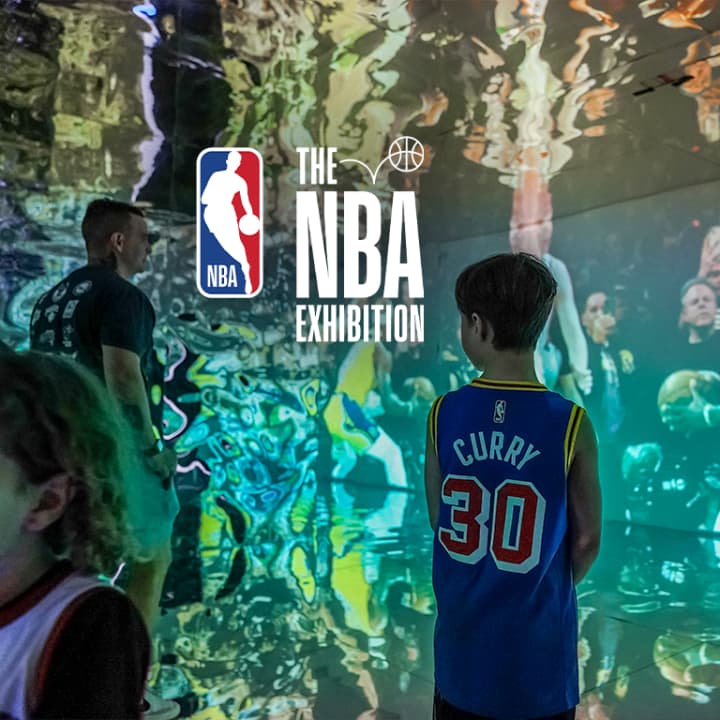 ---